CRDA News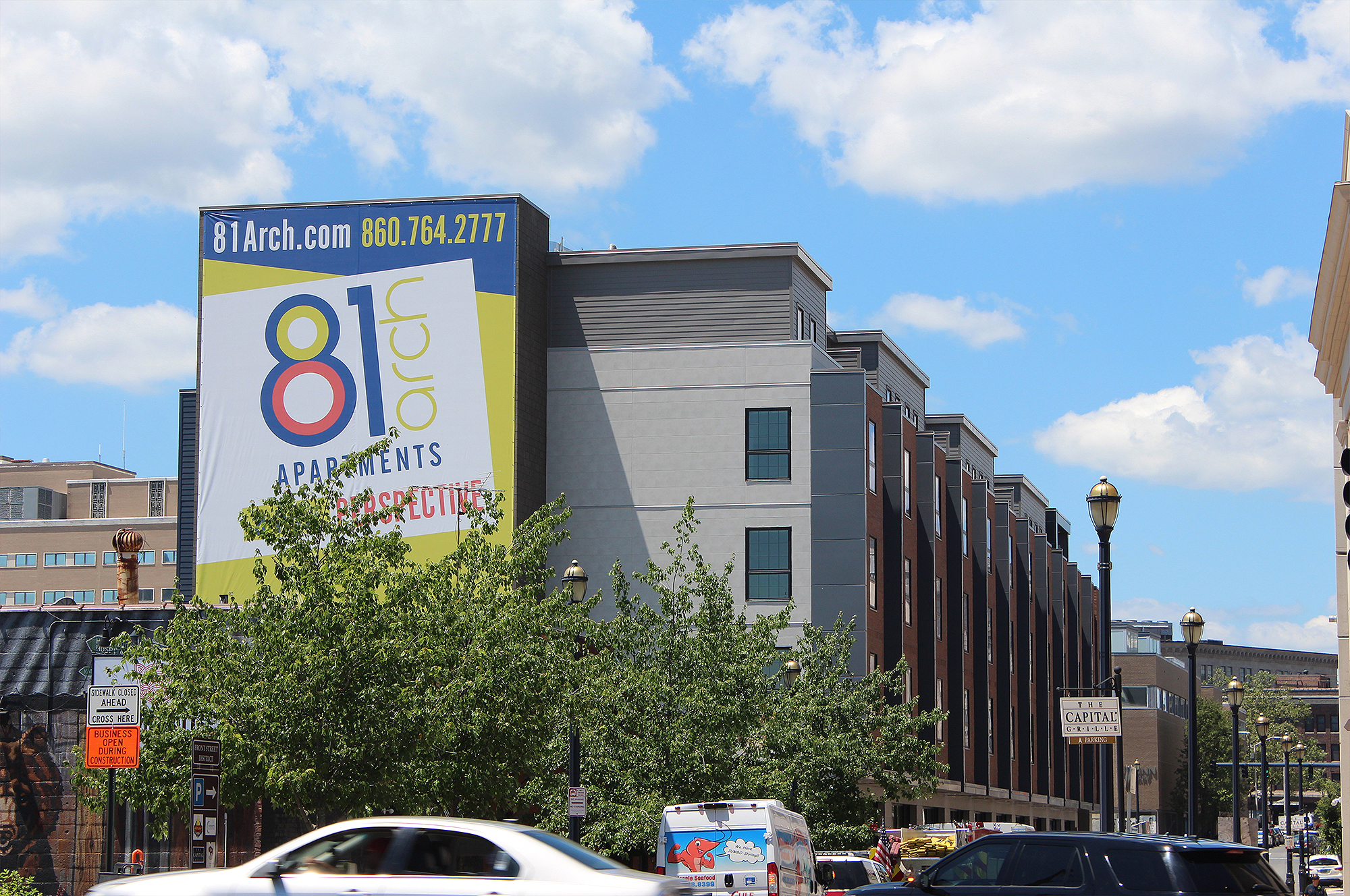 August 23, 2019
The Final Phase of the Front Street District Is Complete!
Fifty-three new studio, one and bi-level two-bedroom apartments are open for residents. Move-ins started August 1, 2019 at 81 Arch in the Front Street District in downtown Hartford. The apartments mark the fourth and final phase of the project known as Adriaen's Landing and are the second new housing construction in the city center by Greenwich developer, H.B. Nitkin, (Nitkin).
Ten years after its inception, a convention center, science center, hotel, university branch, restaurants, a live music concert hall and two new apartment buildings will finally bring the ͞six pillars͟ economic development venture in Hartford to a close. Nitkin has successfully created a unique mixture of venues on Front Street to support the conference business booked at the Connecticut Convention Center, the visitors to the Marriott-Downtown Hartford Hotel and the surrounding corporate community including the Travelers, the Phoenix, Eversource headquarters which are adjacent to the district. One housing complex was part of the original plan for the district, but after the addition of the University of Connecticut branch (UConn-Hartford) to the former Hartford Times Building, the demand for more housing in the area grew. Arch Street is technically outside of the officially designated Front Street District, but tying in the Arch Street Tavern, a mainstay in the neighborhood allows for Adriaen's Landing's integration into the surrounding community.
The Front Street Lofts (Lofts) were the first new construction apartments in the city with 121 spacious studio, one and two-bedroom apartment units featuring granite countertops, stainless steel appliances, dishwashers, full size washer and dryers, large windows, patios and balconies. On-premises amenities include a resident lounge with TVs and Wi-Fi, bike room storage, pet washing station, rooftop deck, concierge services, first class fitness center and parking access. The Lofts consistently remain at 94 to 97 percent occupancy since opening in 2015 and the expectation is the same for t81 Arch Street. The new apartments range in rent from $1,225 to $1,900, plus parking. The property also has 11,000 square feet of street-level retail and commercial space. The total cost of the construction is $23 million with $5.6 million from CRDA and a $1 million Urban Act state grant for environmental cleanup and other site work.
Visit www.frontstreetdistrict.com for leasing details.