CRDA Venue Committee
CRDA legislation charges CRDA with operating, maintaining and marketing the Connecticut Convention Center and with the management of other facilities such as the XL Center and Pratt & Whitney Stadium at Rentschler Field through contractual agreements. The legislation also asks the Authority to work with DECD to attract, through a coordinated sales and marketing effort with the capital region's major sports, convention and exhibition venues, large conventions, trade shows, exhibitions, conferences, consumer shows and events. These responsibilities are essentially the Venue Committee's scope of responsibility.
Venue Committee PROJECTS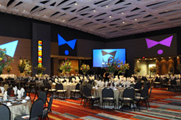 Connecticut Convention Center
The 540,000-square-foot Connecticut Convention Center (CTCC), is the largest, full-service convention facility between New York and Boston. The convention center offers 140,000 square feet of exhibit space; a 40,000 square foot ballroom; 25,000 square feet of meeting space; and 2,339 attached parking spaces. The Connecticut Convention Center is owned by the State of Connecticut and operated by the Waterford Venue Management Group under a contract with CRDA.
---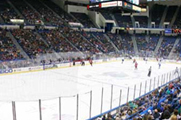 XL Center
The original facility opened in 1975 as the Hartford Civic Center Veterans Memorial Coliseum and Exhibit Center. It is owned by the City of Hartford and operated by Spectrun Venue Management.The 16,000 seat arena is currently the home of the UCONN Huskies Men's and Women's National Championship basketball teams, UCONN Men's Hockey and the AHL's Harford Wolf Pack. In addition to major sporting events, the arena continues to host world-renowned artists such as Elton John, Fleetwood Mac, Travis Scott, and Blake Shelton.
---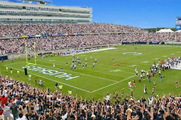 Pratt & Whitney Stadium at Rentschler Field
Rentschler Field is Connecticut's sports & entertainment stadium owned by the State of Connecticut and managed by Spectrum Venue Management. In addition to being the home of the University of Connecticut Huskies football team, Rentschler Field's 40,000-seat stadium is the perfect setting for college football, concerts, conferences, banquets and special events